Ukraine's defense ministry on Tuesday has touted the Monday night destruction of Russian cruise missiles which were stationed in Crimea. Videos posted on social media showed a series of explosions in the northern part of Crimea, centered on the town of Dzhankoy, a key logistics hub through which a railway line runs.
The Ukrainian military is saying that a shipment of Russian Kalibr cruise missiles was successfully destroyed in what appears to have been a drone attack. While not directly owning up to the operation, Kiev is hailing the 'mystery' attack deep inside Russian-held territory.
"The mysterious series of blasts continues the process of Russia's demilitarization and prepares the Ukrainian peninsula of Crimea for de-occupation," a statement Ukrainian Military Intelligence said.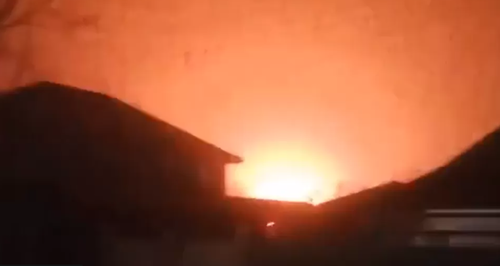 Russian media sources indicated a "night attack by Ukrainian drones" on a technical school as well as residential areas. Up to five locations were reportedly targeted, the Russian media sources also claiming they were all shot down – though little can be confirmed. According to a description in BBC:
Read more here: https://www.zerohedge.com/geopolitical/russian-cruise-missiles-destroyed-drone-attack-crimea-amid-xi-visit-ukraine-says