If the Biden administration has its way, Americans will get a COVID-19 booster shot once a year just as they would their annual flu vaccine, starting this fall with the reformulated Moderna Inc. and Pfizer Inc.-BioNTech SE shots.
A new Morning Consult survey found that just over half the public is on board with that plan.
Fully vaccinated adults, Democrats and baby boomers are most likely to get annual COVID-19 boosters
Nearly equal shares of U.S. adults said they would get a COVID-19 booster shot within the next year (58%) and get one annually moving forward (56%). Roughly 3 in 4 Democrats, 1 in 2 independents and 2 in 5 Republicans are planning for booster shots in their futures. And about 3 in 4 people vaccinated against COVID-19 said they're planning on getting boosted within the next year and on following the annual booster cadence, compared with roughly 1 in 7 unvaccinated Americans who said the same.
The survey was conducted a week after the Centers for Disease Control and Prevention cleared the updated Moderna and Pfizer-BioNTech booster shots for adults, and days after several White House officials said most Americans should now be able to get by on one jab per year.
Noting that COVID-19 boosters will be updated yearly to match the most widely circulating strains of the virus, Dr. Anthony Fauci, director of the National Institute of Allergy and Infectious Diseases, said the new process will mirror the annual flu shot campaign. According to the survey, 47% of U.S. adults get a flu shot every year, 8% get one every other year, 7% are inoculated every few years and 10% receive the jab less often than every few years. About 3 in 10 Americans said they never get the flu shot.
bout 2 in 3 Adults Think Yearly COVID-19 Booster Will Effectively Prevent Serious Illness, Death
Share reporting confidence that an annual COVID-19 booster shot would be effective in preventing the following: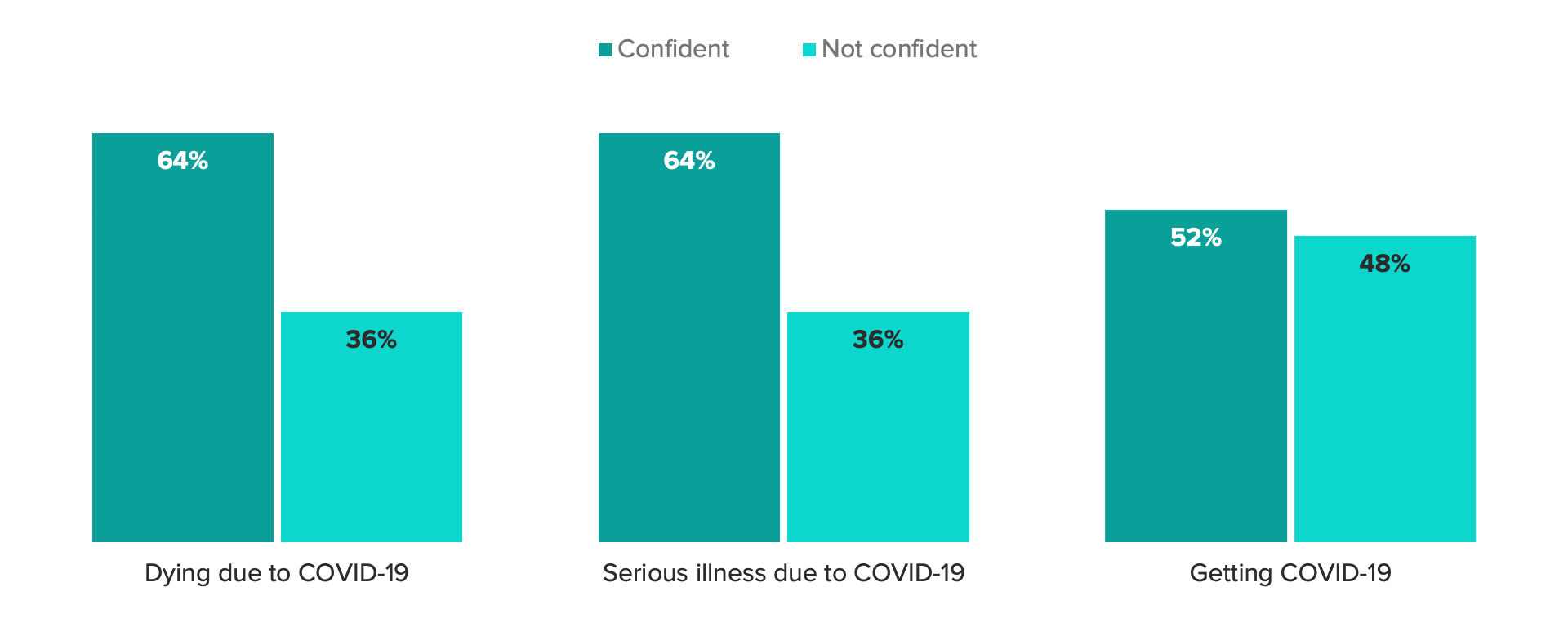 Americans largely confident that boosters help prevent death, serious illness
Most of the public is optimistic about the efficacy of a yearly COVID-19 booster: 64% of adults said they're confident that an annual shot would be effective in preventing serious illness, and an equal share said the same about its effectiveness in preventing death from the disease. About half of U.S. adults are confident that a once-a-year booster would be effective in preventing them from contracting COVID-19.
Vaccinated adults, unsurprisingly, are much more confident than their unvaccinated peers about an annual booster's effectiveness in preventing serious illness (80% vs. 21%) and death (79% vs. 22%).
The Biden administration's push for once-a-year COVID-19 boosters isn't exactly falling on deaf ears, but the survey indicates that more outreach is needed: 16% of U.S. adults said they've seen, read or heard "a lot" about the White House's announcement, while another 39% said they've heard "some." Among the vaccinated population, 61% said they've heard at least something about the annual COVID-19 shot campaign, while a nearly equal share of unvaccinated Americans said they haven't heard much or anything at all.
SOURCE: https://morningconsult.com/2022/09/14/yearly-covid-19-booster-shot-survey/